So I woke up this morning and of course the first thing I do is check out all of the wonderful blog updates!!! Well, there was definitely something a little different going on in blog world this morning...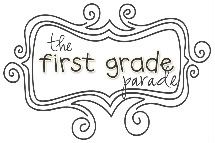 One of the BEST blogs I've come to follow, The First Grade Parade, has started this lovely trend of getting to know one another a little more and I plan to follow! So here goes! :)
My name is Ciera Harris. I currently teach 2nd grade in a school in central Indiana and I absolutely LOVE it. I'm a looping teacher as well so I get to have my lovely kiddos for two whole years!! What growth and personality changes I get to see! This is only my 3rd year teaching.. I'm a youngen.. I know!
The above picture was an engagement picture taken a few years ago. I just love the picture and think it has such a neat view. My husband Matt and I have been married for just slightly over a year now. We got married in December of '09. It was such a wonderful day! We don't have any kids yet. I'm currently taking grad classes to get my masters in Elementary Education with a focus in reading development to become a reading specialist. My husband is also taking grad classes for Emergency Management and Homeland Security (that's a mouth full!)
The picture above is of my two dogs. One - if you've been following my blog you should recognize - is Allen, my school's service dog. The other lovely canine is Lyla. They are the loves of my life :)
This picture is just a close up picture of myself and my husband at the Indianapolis Downtown WhiteWater Canal this past summer. I love being out doors!
This is a wedding picture - had to share one of those. I had a winter wedding and got to wear a BEAUTIFUL winter white cape with fur around the edges. It was gorgeous!
I'm also a HUGE Colts fan! This is a picture I took this past season at one of their home games :)
And finally the two pictures above are my two cats. Max - the one above and Mia, the cat above Max. I'm such an animal lover!!
Q: What would you be doing if you weren't a teacher?

A: I would be a Vet! I love animals!!
Q: What are your hobbies?

A: Going to the movies, shopping at Lakeshore, shopping, digital scapbooking, and recently Blogging!
Q: When you were little, what did you want to be when you grew up?

A: The right question would be what DIDN'T I want to be when I grew up? I think it changed up until the day I registered for college... ;)
Q: What are your guilty pleasures?

A: Rootbeer, ice cream, cheesy teen drama shows on ABC Family
Q: What is your biggest fear?!

A: Being murdered. I'm addicted to shows like Criminal Minds and Law and Order SVU - so I have this huge fear now that I'll be murdered and turned into one of those shows. Haha!
Q: When you're on vacation, where do you like to go?

A: I go to Florida - Naples, Florida to be exact every spring break. I also LOVE Hawaii and going to historical places like Savannah, Georgia.
Q: What's the best advice you've ever received?

A: In the end, its all okay. If its not okay - its not the end.
Q: What do you value most in others?

A: Generosity.
Q: If you could choose one of your personality traits to pass down to your kids, what would it be?

A: I would hope my free spirit. I love just going with things and not knowing what's ahead and not caring. Taking a drive and flipping a coin to decide where we're going.
Q: If you could have lunch with anyone in the world….living or dead…who would it
be?

A: My husband's grandfather. He practically raised my husband and is the reason my husband turned out to be the wonderful man he is today. I never got to meet him and wish everyday that I could. I want to meet him and thank him for doing what he did.
Now tell us one random thing about yourself:
Umm... I've witnessed a bank robbery when I was little!! My mother was going to the bank in a grocery store and the person in front of us robbed the bank with a gun!! After than man ran out my mom turned to me and told me to stay in place - and then she proceeded to run out the door. She chased down the man and ended up getting his license plate number, gave it to the cops and the guy got caught!! What a day!